Finn's Tale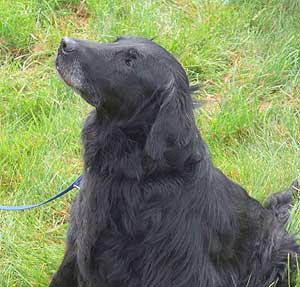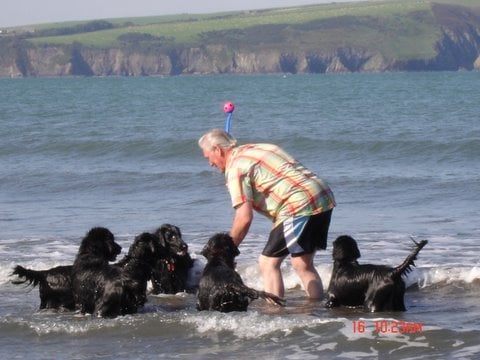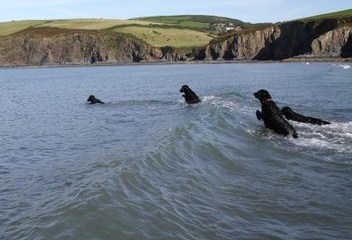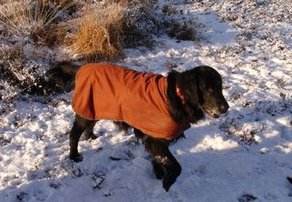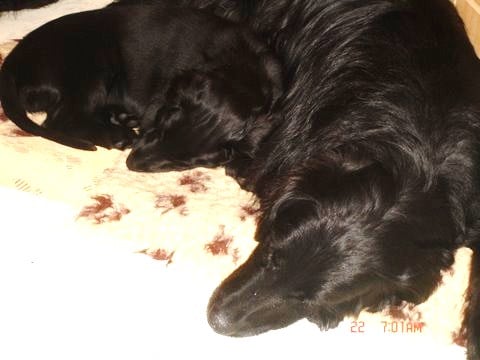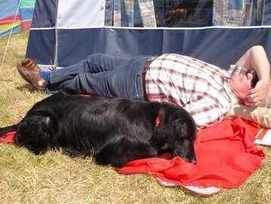 Finn with his friends and Dad
We had to say good bye to Finn just days before his 15th birthday. A real character and an old rascal but a true flatcoat boy! He will be greatly missed by his flatcoat friends and all those whose life he touched.
Forever in our Hearts
I was born on March 4th 1996 and was one of nine puppies. I don't remember much about my early life except I had several homes. I had heard about 'forever' homes but somehow that didn't seem to be my destiny. Not that I was a bad dog, quite the contrary I think, I never looked for trouble and was always quiet and polite but for some reason I never seemed to fit in. Then just before my seventh birthday I was taken to see some new people. I heard that they had recently lost an old dog and were looking for another. I must admit I was quite surprised when I saw them, they both had grey hair and were much older than anyone else I had lived with but they were very friendly and somehow I knew that this was going to be a good place to be.
My new mum and dad lived in a bungalow so there were no stairs and at night I was able to wander from room to room. I soon decided I wanted to sleep on the floor by dad's bed. It was comfortable and safe and when dad reached down and gently stroked me I had a lovely warm feeling inside.
We soon settled into a routine. Each day we went out in the car to a huge forest called Cannock Chase for long walks. I saw deer and rabbits and there were lots of interesting smells. Mum and Dad knew lots of people and I soon had many doggy friends to play with. Everyone admired me and said how beautiful I looked with my shiny black coat. I liked the attention but mostly I loved chasing after a ball that Dad threw for me. Life was perfect!
During my second year with Mum and Dad I began to notice that Mum was acting oddly. She became angry at the smallest thing and was very forgetful. I could see that Dad was worried and I was too. I didn't know what was wrong but something was and I wondered if it was my fault. Mum got worse and worse and sometimes she threw things and threatened dad with her walking stick. Then one day she went off with a lady and never came back. Dad said something about respite care and I know he hoped that Mum would be back again soon but days went by and Dad just got sadder. I tried hard to cheer him up and gave him lots of cuddles. We used to sit watching television together eating corned beef or chicken sandwiches just like he'd done with Mum, but I knew he still missed her.
I now went for walks with some other Flatcoats. The walks were faster and lots of fun as they all liked to play ball. We had some great races and as I became fitter I began to win sometimes. After the walk it was home to Dad, TV and sandwiches. The pattern of my life had changed again but although I missed Mum, I still had Dad and he loved me as much as I loved him.
Just after my 10th birthday Dad and I were watching TV as usual when he made a funny noise and slumped over in his chair. I gave him a nudge to see if he was ok but he didn't respond. I thought he'd gone to sleep so I settled down to wait for morning. The sun came up and I could hear the birds singing. Dad should have been awake by now but he was still asleep. He was making a strange noise and no matter how much I nudged him he wouldn't wake up. I was getting frightened. Time went by and then the door bell rang. I barked and barked. Surely someone would realise that I needed help. The door stayed shut and the visitor went away. What could I do? The house was very quiet except for the strange noises coming from Dad. Suddenly the telephone rang. The ringing went on and on. I rushed into the hall, barked at the phone – and it stopped. Then it started to ring again. This time I barked at it so much I knocked it over and then I heard a voice. I kept barking not knowing what else to do. At last I heard a car pull onto the drive and a few minutes later the front door opened. Help at last!
Everything happened very quickly. Dad was taken off in an ambulance and I was put into a car. I didn't know what to expect and feared the worst but when I got out of the car I was greeted by my Flatcoat friends and I knew it was going to be ok.
The next few days were a bit fuzzy. My friends were very nice and tried to make me feel at home but I couldn't settle. I wanted to know when Dad was coming back and I watched the door waiting for him to come to fetch me. He didn't come for me. Days went by and I began to realise that just like Mum, Dad had gone and my 'forever' home had gone too.
Life in a pack of five is very different to being a single dog. I learned to share toys, that the first one to get to the biscuit ate it (no point leaving it 'til later in this house!) and that cuddling up to another warm furry body is very comforting.
We still went for long walks in the forest, swam in a lovely pool and I learned the joy of mud wallowing (my new Mum pretended to be cross when I did this but I often saw her hiding a smile so I knew she wasn't really).
My new Mum and Dad had a caravan and all of us went on holiday in it together. It was odd at first living in a house on wheels. There was less space inside but we spent most of the day outside in a cloth covered thing called an awning and that was lovely – lots of interesting smells and nice cool grass to roll on. I saw the sea for the first time. It was huge much bigger than the forest pool and it moved! – great crashing waves! Mum told us all not to drink the water but she needn't have worried – it tasted awful! Dad kept me on a long lead at first because he thought I would find swimming in the waves difficult but he soon realised how good a swimmer I was. It was amazing floating on top of the waves and being washed back towards the shore. I loved it! I felt young again and my old bones didn't ache at all.
We've been on several holidays now and I love seeing different places but most of all I like being at home. I have my doggy family, Mum and Dad, a comfortable bed and at last my true 'forever' home.
Finn came to my parents after he had lived in at least 3 other homes. Sadly my mother developed a form of dementia which caused her to become quite aggressive and she was taken into care to give my father a much needed break. While in care she had a bad fall which combined with other health problems led to her death. Dad died from a stroke 6 months later and it was then that Finn came to live with us. He was 10 years old. He is a lovely gentle boy, very much an old gentleman now, but still happy to go for quite long walks with his 4 Flatcoat friends. He celebrated his 14th birthday on March 4th 2010.
Kate.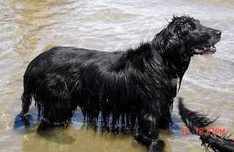 Finn at the seaside