15th Anniversary Novelty Dog Show
THE 15th ANNIVERSARY NOVELTY DOG SHOW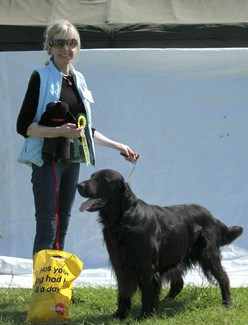 Best in Show - Robbie
&
Winner Of the Joan Mason Memorial Class Best Flatcoat
After weeks of worrying and hoping that the weather would be OK Saturday 17th dawned bright and sunny.
The Dog Show was held in conjunction with the Stanton St Quintin Village Fete and we were able to have a large tent supplied by the Army and we also decided to hire one ourselves just in case it rained - as it turned out it was wonderful for shade for the dogs.
We were also extremely lucky to have some great support from -
Burns and Fish4Dogs sent large boxes of sample packs of food and Burns sent two large bags of food for prizes.
They were used for B.I.S and R.B.I.S. Butchers dog food sent vouchers and our other sponsors were –
Lumleys Pet Shop (Malmesbury) who gave us £5 vouchers and are always very supportive,
Nurdins Garden Centre (Malmesbury) who donated half the hire charge for the tent,
David (my other half) donated the megaphone,
The Kennel Club who sent a pack of show items,
Jolleyes (Chippenham) donated a back of food for a class and also gave us some vouchers.
Pedigree pet foods who also sent prizes.
Our Rosette sponsors and last but by no means least our Volunteers.
I have to say a very special Thanks to Shona Fromholc who sent me a prize for the Joan Mason Memorial Flatcoat Class – she had made a flatcoat out of a black towel and he even sported a lovely red collar and lead!
Thanks also to Pam our 'rosette lady' did a wonderful job with the rosettes and they were much admired by all.
The show had ten novelty classes and our special flatcoat class in memory of Joan Mason.
Special Thanks also to Brian Izzard who judged and helped make it a fun afternoon.
You always worry that there will be no dogs to judge but we had a real selection for Brian to choose from - a St Bernard pup to a tiny little Yorkie plus a fine collection of Flatcoats!
All the dogs seemed to be on their best behaviour and I am going to mention my own two here – Chester and Kizzie – I was so proud of them because we lead a quiet life and they do not go out and about that much but they really seemed to enjoy themselves and Kizzie had her favourite person for the day my son Martin she loves him. Kayleigh my granddaughter took Kizzie in the ring and Martin took Chester and between them they won 4 rosettes. Kayleigh took the pair of them in best brace and handled them very well for a first timer!
The Best In Show went to Sue Hart with her lovely Flatcoat boy Robbie and Reserve Best in Show was Tiny a Toy Poodle owned by a lady called Carly.
Results for the Joan Mason Memorial Flatcoat Class
1st Sue Hart with Robbie.
2nd Roger Millbank with Storm
3rd Anne Bishop with Nettle
4th Lynda Copsey with Gem
5th Suzi Tagg with Lily
Rosettes were presented by Rosemary Talbot.
(Joan's Daughter)
A special mention must go to Poppy's Mum and Dad – Mandy and Jim Wellen who travelled all the way from Maryport Cumbria to be with us. Jim also made some items for the stall out of the drift wood that Poppy 'rescues' from the beach. I will put a picture in the Gallery and if anyone would like to buy any please contact Glenis.
It was lovely to meet Poppy rehomed by the IFRR she is certainly a very happy girl and very much loved by Jim and Mandy. Jim says she has brought so much fun into their lives and she makes them laugh every day.
Thanks to Heather and Tony who looked after the Rehoming Stall for us and also brought Murphy along – Murphy you may remember was Ann Collett's boy and is still looking very well at 14yrs.
Thanks also to my sister Christine who took all the entries along with Daisy my great niece. Yes I am that old!
Another special mention must go to Iain and Gill Robbe - who brought Poppy and Vesta up from Wales.
Iain was MC for the day and did a great job – he was rather thrown in at the deep end with the megaphone that he knew nothing about and had to do a crash course from the instructions!
Thanks to Tim for taking all the pictures.
Thanks also to Suzi Tagg for her support .
Suzi is Secretary of the Southern Flatcoated Retriever Club
www.southernflatcoatedretriever.co.uk
Last but not least THANK YOU to Glenis who stewarded for Brian and was there helping all day.
She also brought along some delicious cakes for 'tea time' which we all very much enjoyed.
Glenis was also responsible for giving me a beautiful bouquet at the close of proceedings.
A very nice surprise.
To sum up the day I think we can say it was a big success and enjoyed by all and it was great to catch up with friends and hopefully we have made a few new ones.
Those that were too far away thank you for all your good wishes - Mary
RESULTS NOVELTY DOG SHOW 17th MAY 2014
BEST IN SHOW ROBBIE Flatcoated Retriever Sue Hart
Reserve Best in Show TINY Toy Poodle Carly
Class 1 Most Appealing Eyes
19 Evey Yorkie Holly Harris
34 Amy Flatcoated Retriever Tim Snadden
10 Norman Curly Coated Retriever Sandra Mistlin
4 Roxy Border Terrier Barry Read
37 Rusty Springer Spaniel Jack Williams
Class 2 Dog with Shiniest Coat
8 Bridget Flatcoated Retriever Suzi Tagg
17 Gem Flatcoated Retriever Lynda Copsey
42 Jess Labrador Mike Jones
22 Molly Chocolate Labrador Amanda Tonks
14 Bonnie Springer Spaniel Andy Malin
Class 3 Waggiest Tail
1 Ripple Cocker Spaniel Steve Taylor
14 Bonnie Springer Spaniel Andy Malin
42 Jess Labrador Mike Jones
33 Robbie Bassett Fauve De Bretagne Roger Starling
20 Harry Golden Retriever Andrew Weaver
Class 4 Best Rescue
29 Iris Flatcoated Retriever Sue Hart
24 Boycie Utanargan Phillip Neal
46 Chester Flatcoated Retriever Mary Haines
38 Fabio Collie X Alison White
5 Poppy Flatcoated Retriever Jim & Mandy Wellen
Class 5 Oldie 7-10yrs
42 Jess Labrador Mike Jones
28 Holly Golden Labrador Rosalind Brown
32 Zoe Jack Russell Cerys James
15 Poppy Flatcoated Retriever Gill Robbe
38 Fabio Collie x Alison White
1 Ripple Cocker Spaniel Steve Taylor
Class 5A Joan Mason Memorial - Best Flatcoated Retriever
30 Robbie Flatcoated Retriever Sue Hart
41 Storm " Roger Millbank
44 Nettle " Anne Bishop
17 Gem " Lynda Copsey
9 Bridgit " Suzi Tagg
Class 6 Golden Oldie 10yrs +
49 Tiny Toy Poodle Carly
46 Chester Flatcoated Retriever Mary Haines
43 Tinca Springer Spaniel Alice Dean
11 Honey Curly Coated Retriever Sandra Mistlin
18 Leigha Jack Russell
Class 7 Junior Handling 7-14yrs
9 Lilly Flatcoated Retriever Amy Browne
32 Zoe Jack Russell Cerys James
19 Evey Yorkie Holly Harris
26 Gilly Chocolate Labrador Susan Irving-Gibbons
14 Bonnie Springer Spaniel Andy Malin
37 Rusty Springer Spaniel Jack Williams
27 Cullan Golden Retriever Dave Groce
Class 8 Best Brace – open to all pairs – any breed
Robbie and Stormy - Flatcoated Retrievers Sue Hart
Roxy and Boris - Border Terriers Barry Read
Tiny and Cleo - Toy Poodles Carly
Kizzie and Chester - Flatcoated Retrievers Mary Haines
Bridgit and Lilly - Flatcoated Retrievers Suzi Tagg
Class 9 Can Your Dog do a Trick?
1. 18 Leigha Jack Russell
2. 48 Willow Staffie (blue) Jason Kean
3. 47 Bauer Cocker Spaniel Mandy
4. 45 Kizzie Flatcoated Retriever Mary Haines
5. 38 Fabio Collie X Alison White
Class 10 Dogs that have not won a prize
23 Rosie Black Labrador Amanda Tonks
Bailey Beagle
2 Lucy Cocker Spaniel Marilyn Challoner
36 Peter King Charles Spaniel Anita Druce