Flatcoat Archives
It was Barney that inspired the forming of the IFRR.
He arrived on my doorstep in March'95. I did find him a new home but unfortunately there was said to be a problem with him and children.
I was looking after my son's dog when he came back and I had to reluctantly put him in kennels for ten days. During his stay there he had a bad tummy and I thought that when he came home he would be fine. Sadly that did not happen and he continued to go downhill until one morning we realised we had a very sick dog. He was immediately taken to the vet and given some injections but by late afternoon his body had started to shut down as he was so dehydrated. He was rushed back to the vet and put on a drip in intensive care. For those first few hours it was touch and go but as time went on he slowly improved and after three days he was well enough to come home. During the next few weeks Barney had many tests but all came back negative. The only conclusion after much discussion with the vet was that Barney had suffered severe kennel stress.
Overall it took eighteen months for his complete recovery. We had seven wonderful years with Barney. He was a very special boy.
Mary Haines
TWO VERY SPECIAL BOYS
GUINESS & MURPHY

We were notified of two Flatcoated Retrievers in a rescue in Yorkshire. We made contact and learnt that it was two entire Flatcoat males - 11 & 10 years old. Arrangements were immediately made to collect them and take them to a foster home. These two boys had lived together with a lady who sadly was taken ill and had to go into hospital and it was felt that she would not be able to look after these dogs so they were handed in to a rescue. From the information that we have been able to gain these lads had been left on their own for six weeks in the house and someone was supposed to be going in to feed and exercise but it appears this was very hit and miss. So as you can imagine these dogs were quite stressed. The rescue tried their hardest but as they said they just could not devote the time to these dogs that they needed. Evelyn and Jim collected Guiness and Murphy and kindly offered to look after and assess them. Evelyn said that they drooled all the way home and were very stressed. They obviously did not like travelling. Perhaps they had never done it before. We laugh about it now but Evelyn thought two oldies would be quiet and easy going! She had quite a shock, as they were quite delinquent. In hindsight this was obviously due to what they had been through and they soon settled down. They are still naughty boys and get up to mischief but they have found their way into Evelyn and Jim's hearts and I know they are really loved. Guiness is the older boy at 11 and Murphy is 10. They both appear to be in good health, apart from the usual lumps and bumps and a bit of stiffness that comes with old age. We were fully aware that these boys would have special requirements and the fact that we would not separate them it would have been far too upsetting for them, we realised that it would be extremely difficult to rehome them. We had to make a decision because it would have been difficult to uproot them again - after Jim and Evelyn discussed fully all the implications of having two oldies in their care they have kindly offered to look after them for the rest of their days. Realistically one will probably be left on its own and with Evelyn's other flatcoats about it will not be so traumatic for the one left. Guiness and Murphy are very happy now and Murphy is a real water baby. They have a brook running through their play area and Rosie the Pot Bellied Pig to play with! What more could a flatcoat want?
To be continued.....................
Guiness and Murphy
Guiness and Murphy are continuing to enjoy life with Jim and Evelyn. Guiness has suffered the doggy version of a stroke but thankfully has recovered very well. He still has a few health problems, he has to have eye drops every day for dry-eye and also has to have his ears cleaned daily. He had a very severe ear infection which has now cleared, it is thought he had had it for quite some time. Swabs were taken to ensure that the correct antibiotics were used and after a course of treatment a further swab showed the infection had cleared. He is so used to having his 'daily clean' that he turns his head each way for the drops to be put in. He is an amazing old boy.
Both Murphy and Guiness enjoy playing and have their favourite tuggy balls, Murphy also enjoys a swim in the brook.
Evelyn says they are a very special pair and are a delight to have around.
Facebook https://www.facebook.com/BlackRetrieverXRescue?ref=ts&fref=ts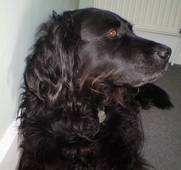 We have sadly had to say goodbye to Logan who was the 'founder' of Black Retriever Rescue.
He was the first Black Retriever to come over from Ireland in 2002 and arrived on an antiques lorry. He had had several homes and quite a tarnished reputation! He was collected from the Severn Bridge on a wet April morning and arrived somewhat dirty and dishevelled. The thing I will always remember when he emerged from the back of the car were his big eyes. He had been advertised as a Flatcoated Retriever but he was more like a great big black bear. He became a wonderful ambassador for the Black Retrievers and thanks to him more dogs found homes. All who met him fell in love with him and wanted to take him home. He was a very special boy and we were very privileged to have had him in our lives. He will be greatly missed.
Mary
The Independent Flatcoated Ret
riever Rehoming rescued several Black Retriever X's from Eire. The first of these dogs was Logan who was advertised as a Flatcoat Retriever and arrangements were made to bring him over to the UK. He was transported in the cab of an antiques lorry and by all accounts was very well behaved! On arrival it was clear that Logan was no Flatcoat! He was big black and hairy and had really big eyes! He was a bit smelly and extremely nervous but a nice tempered lad. His age was about three. Logan has proven to be a wonderful ambassador for these dogs thankfully things have moved on and the dogs are now transported by specially adapted vehicles.

These dogs make wonderful companions and their temperament is similar to the Flatcoat. All most of them need is plenty of TLC as some have had terrible beginings. These dogs are usually young and are willing to learn.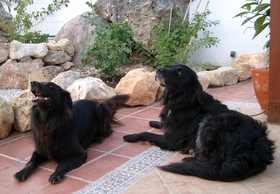 Bobby and Cilla two more of the Black Retriever X's that the IFRR rehomed and they are both now living happily in the Spanish sunshine with Pam and Alan.
Mutley is a very handsome Black Retriever X that was rehomed by Jemima and is now happily living in Dorset with Ginny.