Black Retriever X's
Facebook
https://www.facebook.com/BlackRetrieverXRescue?ref=ts&fref=ts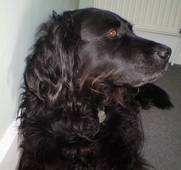 We have sadly had to say goodbye to Logan who was the 'founder' of Black Retriever Rescue.
He was the first Black Retriever to come over from Ireland in 2002 and arrived on an antiques lorry. He had had several homes and quite a tarnished reputation! He was collected from the Severn Bridge on a wet April morning and arrived somewhat dirty and dishevelled. The thing I will always remember when he emerged from the back of the car were his big eyes. He had been advertised as a Flatcoated Retriever but he was more like a great big black bear. He became a wonderful ambassador for the Black Retrievers and thanks to him more dogs found homes. All who met him fell in love with him and wanted to take him home. He was a very special boy and we were very privileged to have had him in our lives. He will be greatly missed.
Mary
The Independent Flatcoated Ret
riever Rehoming rescued several Black Retriever X's from Eire. The first of these dogs was Logan who was advertised as a Flatcoat Retriever and arrangements were made to bring him over to the UK. He was transported in the cab of an antiques lorry and by all accounts was very well behaved! On arrival it was clear that Logan was no Flatcoat! He was big black and hairy and had really big eyes! He was a bit smelly and extremely nervous but a nice tempered lad. His age was about three. Logan has proven to be a wonderful ambassador for these dogs thankfully things have moved on and the dogs are now transported by specially adapted vehicles.


These dogs make wonderful companions and their temperament is similar to the Flatcoat. All most of them need is plenty of TLC as some have had terrible beginings. These dogs are usually young and are willing to learn.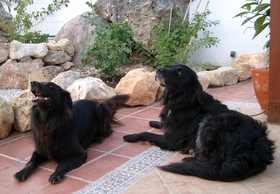 Bobby and Cilla two more of the Black Retriever X's that the IFRR rehomed and they are both now living happily in the Spanish sunshine with Pam and Alan.
Mutley is a very handsome Black Retriever X that was rehomed by Jemima and is now happily living in Dorset with Ginny.